Design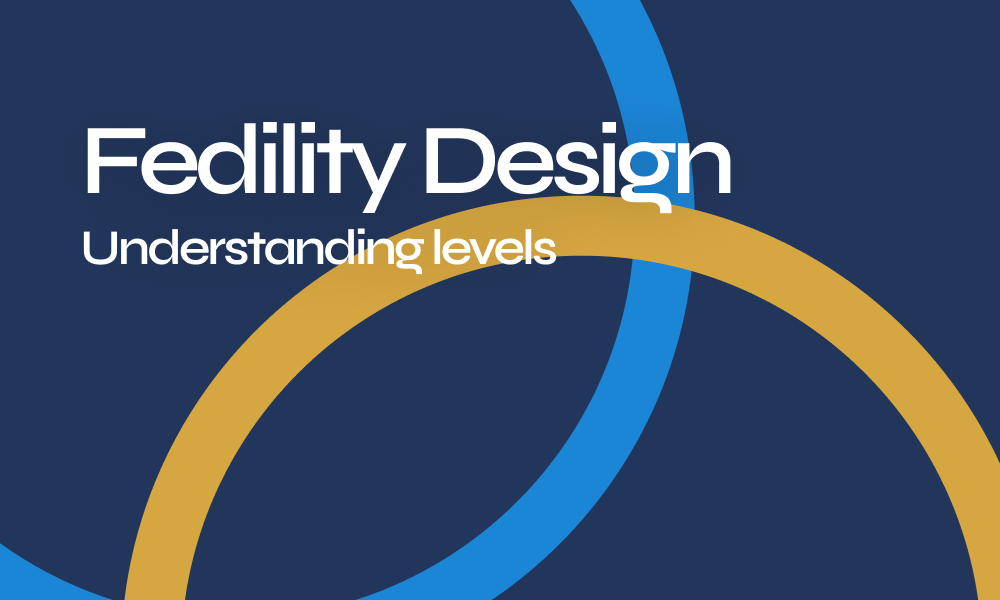 Designing a digital product isn't just about providing a good appealing user interface but also about making sure to design a perfect matching user experience. Building great product experiences requires having an effective design process. There are a variety of UI/UX design tools and each based on different methods. Designing and prototyping are complex processes requiring a good plan, architecture, user flow diagrams, and content preparation. Making sure that your UI design tool works seamlessly to provide the best user experience and build a perfect product is a bare necessity.
So Which process should we opt for? And What range of fidelity is best suitable for each stage of the project? This blog will be answering those questions but first, let's clarify some concepts!
What is fidelity in UI design?
Design fidelity refers to the level of details and functionality built into a prototype that can vary in interactivity, visuals, content, commands, and other areas. There are three conventional levels of fidelity: low, medium, and high.  
Low fidelity: to test ideas and basic sketch

Medium fidelity: to test layout and its interactions 

High fidelity: to almost test the finished product.
What are the levels of fidelity?
Prototyping is like building, you can't build one floor before you finish the one before flawlessly. The prototype starts to evolve from the first day we put our idea into action. Each phase is designed in iterations and tested flawlessly. There are many prototyping tools, choosing one depends on so many criteria mainly the level of fidelity we are aiming for.
 read more about how to choose the right UI designing tool 
LOW FIDELITY level:
The lower level of fidelity is a macro general level used at the beginning of a project where you need to simply sketch and re-sketch till you make an idea ready for the next stage.
 Low fidelity doesn't require details, its main goal is to test the feasibility of a bunch of ideas and ultimately set the groundwork for actual wireframing.
A tool that gives too much control won't be helpful as it will be operating at a sophisticated level and distract you with irrelevant details. You can do this with digital tools as well with a traditional pencil and pen 
MEDIUM FIDELITY
Beyond basic sketching, your idea needs a concrete shaping and persona. This is done by wireframing that uses real dimensions. Wireframes project a semi-functional vision and a tangible visualization of the  UX in a  pixel-based layout that resembles the real-life product structure. It helps test and determine which elements elevate the user experience and which limits it.
At this stage it is just about practicality, wireframes don't have to look appealing or styled but it has to approximate the final pic. Using design components helps in aligning with real expectations.
HIGH FIDELITY
At a micro-level of work, High fidelity prototyping is what comes at the end of the tunnel. At a more advanced level where we talk about a viable product with real designed components, interactivity, and as many details as possible. It requires real-life data to test the behavior of its components. A high fidele prototype includes all aesthetics of your visual UX design.
At earlier stages, we were only focused on structure As the design matures we dig deeper into additional use cases, edge cases, and contingencies, and error prevention.
At this stage, it is a bare necessity to choose a tool that gives you micro-control over the components of the design, so that you can finalize the aspect and behavior of each one of the elements.
Which fidelity level is the most important?
According to experts, they all come to the same importance depending on which stage of the project you are working on. Opting for a gradual low-to-mid then high range fidelity is the most effective approach as it limits confusion and prevents the distraction of the client with easy details like colors and fonts and allows to refine the functional aspects of the product.