Design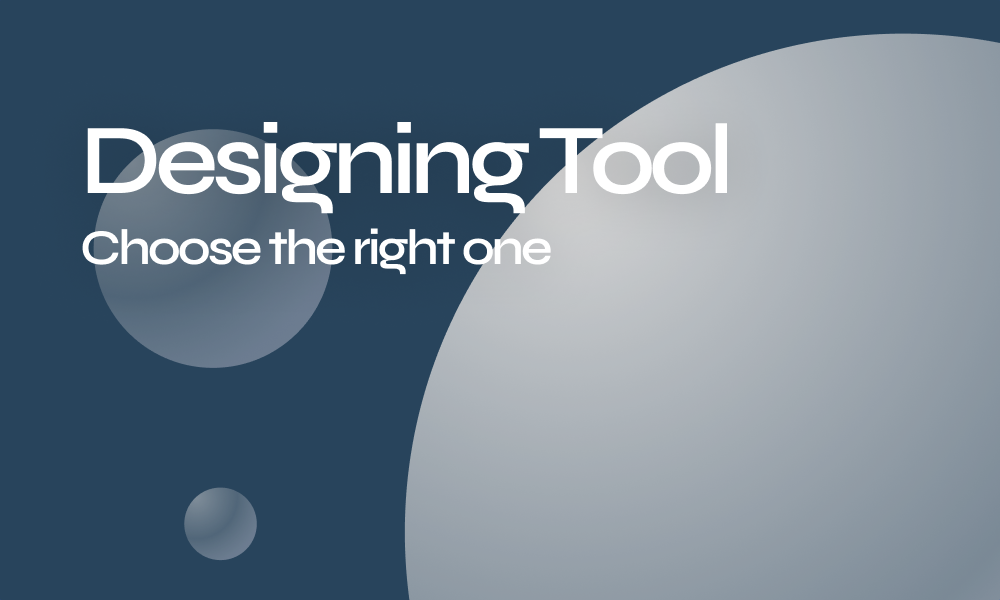 Nowadays The wide variety of UI design tools that can help you design digital products is so vast and confusing. There are a lot of popular UI/UX design tools that market 2020 to chose from. It seems so difficult to pick one that is efficient and makes you feel comfortable as a designer. this blog is here to help to narrow down your choices according to the right characteristics:
Determine your needs
Whether you are a solo designer or part of an organization, new or experienced, the first key element of any research starts with determining your exact needs as a designer. As a start Ask your self the following main questions:
What are the available skills you have?
What is your estimated timescale?
How are you planning to test the prototype?
What is the available budget and how many users you need?
Once you fix your basic needs you need to think about your needs in terms of functionality:
What is the level of team collaboration and project sharing you are looking for in the tool?
How much time are willing to invest to learn how to use the software?
Do your work need low-fidelity to test ideas only, a medium-fidelity to test layouts& interaction, or high-fidelity to test micro-interactions, visuals, etc?
Designing and prototyping are complex processes requiring good plan, architecture, user flow diagrams, and content preparation. Making sure that your UI design tool works seamlessly to provide the best user experience and build a perfect product is a bare necessity.
Choose your design tool according to the following characteristics
Initial offered support
The first thing to consider is how easy is to adopt this new tool and how long it is going to take to integrate it within your work. Whether your designer is used to other tools or he is new, no matter how similar can be the tools it will take time for the designer to adapt to the new features and feel comfortable getting hold of them. Check if this design tool does offer initial support like tutorials to help you elevate your learning curve? How much it helps you take advantage of previous knowledge so that we don't have to start from scratch?
Teamwork and sharing capacities
UI design is a complex process that is usually held through collaborative work between multiple designers. How the new tool is able to support the required teamwork? And further how it consolidates sharing for client feedback? The tool should have features that favor easy collaboration and synchronization between the different involved people. It needs to be able to find a middle ground to visualize the multiple perspectives and opinions to keep everyone on the same page including other involved departments.
Keeping up with the industry standards
Nobody needs a stagnant tool that doesn't evolve with the continuous evolutive UI design industry. You need a tool that adapts, reinvents, upgrades, better ways of doing things, and most importantly keeps up with the very demanding industry standards.
Level Of Fidelity
Designing a digital solution is not only about creating a good looking interface with matching colors and appealing shoes, it is also about creating the best user experience through comprehensive design. That's why we prototype! Testing is a very important phase of prototyping and it comes in different levels so the choice of our designing tool depends also on the level of fidelity we aiming for. Whether it low to just test the idea, medium to test the layout and its interactions, or high to test the visual design, animation, and micro-interactions.
Ease of use and comfort
Another point to consider when choosing a prototyping tool is how well it fits your design process and your devices without having to export assets separately. Your designers need to be able to save time and help increase output while still feeling comfortable using it.
Integrative abilities within your workflow
Will this tool help speed things up with compatible integrations? how well it fits your already built design process? Prototyping is only part of a way bigger process that includes researching users, testing, gathering metrics, communicating the idea to stakeholders, and sharing designs with developers for final implementation. A perfect toll might be hard to find yet the one you opt for should at least smoothen your process and fit well in it and help you meet your deadlines without pressure.
Price VS value
Every value comes for a price and we must admit that those tools are far from being free. To get a proper idea check our list of the most popular tools that market 2020 and their pricing per year, license, and per user. The aim is to pay for a tool that reasonably places its price according to its value, features, and utility to your work. we should be careful while choosing to not be blinded by the features, and pay attention to our budget limits.