Design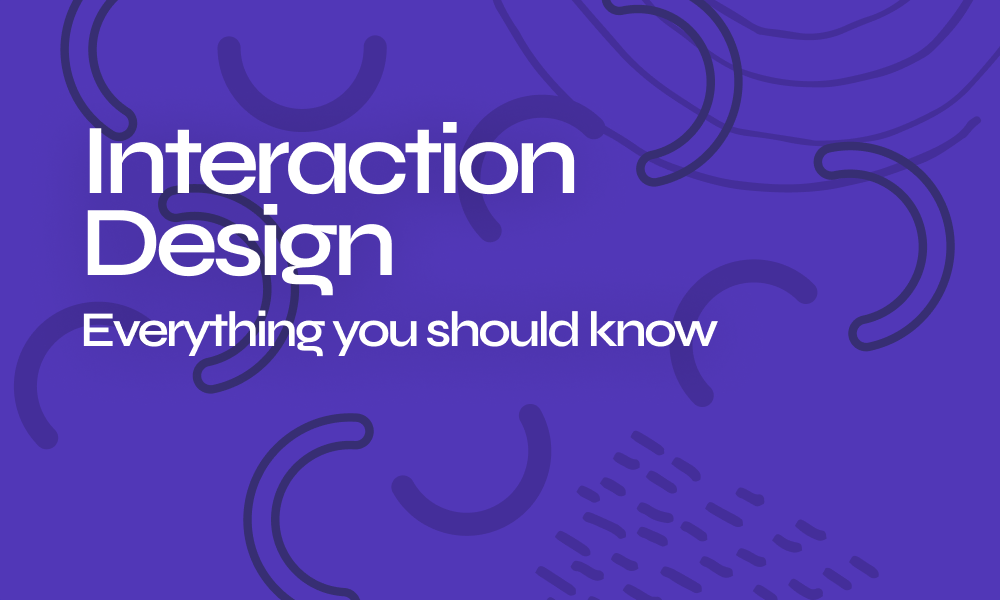 What is Interaction Design?
When we say interaction design the first thing that comes to mind is UX design! Well, it is no surprise as both terms are often related. Interaction design might fall under the umbrella of the UX world yet it is an impassable core skill with its own job description.
So what is interaction design? How does it compare to UX? And how special is an interaction designer? Answers all in this blog!
How to define interaction design?
As simple as it is, Interaction Design can be defined as the art of building meaningful relations between the user and the product. It includes varying relations according to different platforms from mobiles and computers to TVs and big screens. Its application is through interactive systems and different elements of the UX design from buttons to likes etc beyond a static level.
What is the difference between Interaction design and user experience?
An interaction designer job is often confused with a UX designer. That's understandable because they both serve a common goal.
UX design is about shaping the experience of using a product, the interaction that the user experiences with the product is a major part of the UX. Yet the key difference between UX and interaction design is in the dimension in which we build interaction.
While an  Interaction designer builds an "instant moment of interaction" for the user with every element in the product, a  UX designer plans and proposes the general existence of those moments according to the functional aspect to deliver a full user experience. design accounts for all user-facing aspects of a product or system.
Methods of application of interaction design
Methods of interaction design are so varied yet there are certain methods that are so popular among designers and can be applied separately or combined. Here are the most common ones  
Goal-Driven Design
Goal-driven design is a technique based on explicit priority to solve user problems. Its main focus is providing the end-user with the best experience that replies to his needs technically and emotionally for the highest satisfaction. Unlike any other method that rather pay attention to the technical capacities and limits of the technologies and in which designers have to apply to development constraints. Goal-driven plan interactions according to user need and ultimate satisfaction.
 It is based on certain practices such as holding designers responsible for the user experience & product quality and prioritizing design over programming when thinking of a product.
Useful design
Usability simply refers to the designers thinking about how useful is their design to the user on 4 main scales:
Learnability:

how easy it is for the user to learn how to navigate the interface properly

Flexibility:

in how many ways can the user interact with the product according to his/her need

Robustness:

How are we going to support users in case of errors.

Efficiency:

how quickly can users perform tasks using the 
There are no other options or an interface to be nothing but  "usable." 
Dimensional design
The interaction design language is based on 5 dimensions that build interactions and communication bridges between the user and the screen. Here are the main 5 dimensions 
words:

 Simple, useful, understandable, communicative text proposed and written to help the user within the interface

Visuals:

Everything that is not text written like graphics, images, and icons should match the texts and present an appealing general visual.

physical objects or space:

 includes any mediums of communication and interaction that the user has with the digital solution including physical objects: mobile, computer mouse, keyboard etc. 

Time

to measure the interaction time of the user with the first three dimensions. And how much it takes the user to understand the interface.

Behavior

including

action and reaction and state of emotions that the user experiences with the screen.
Cognitive Psychological design
Cognitive psychology refers to the mind work, and mental processes taken place by the user toward the screen. Designers try to create products that drive positive emotional responses by users.it includes simple elements like  Color palettes, fonts, animations, etc.
So what interaction designers exactly do?
In some companies a UX designer can play the role of an interaction designer yet in  bigger teams an interaction designer is a completely independent  job position with specific tasks that include:
Developing a Design strategy in adequation with the aimed user needs and expected necessary interactions so conducting user research is a key step to creating a strategy that translates that into interactions.
Wireframing and prototyping
Most interaction designers are tasked to create wireframes that translate the planned interactions. In some job description, interaction designers are also asked to create interactive prototypes and high fidelity models Diving deeper into interaction design
Conclusion
The field of Interaction Design demands an impressive elevation from static thinking to interactive practice to really help hold a conversation. between a machine and a person who uses it.