Tips and Tricks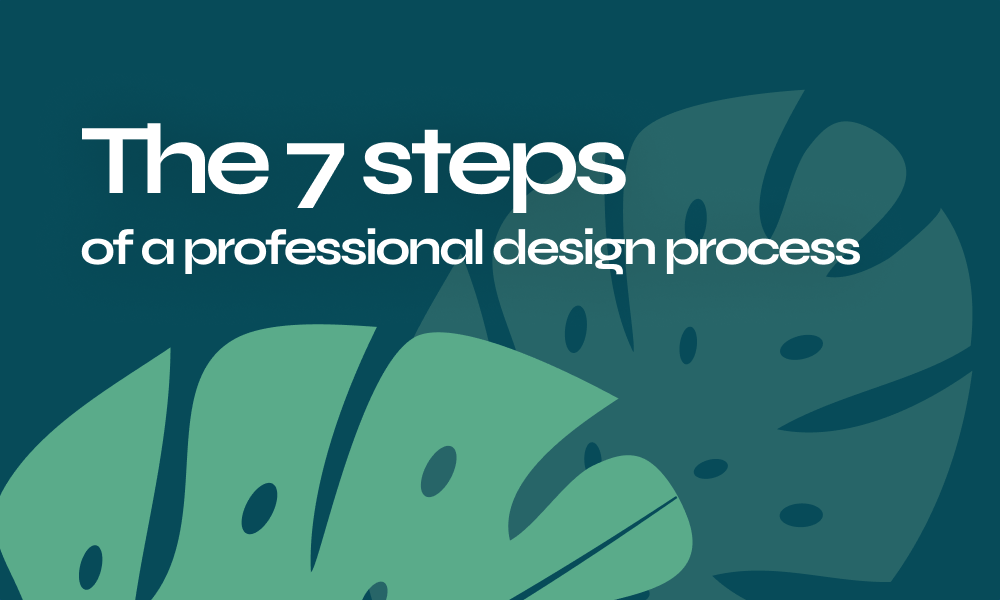 Just like any concept that has an input and expected output, design isn't about taking random actions to find a result, it is a very precise process that follows major steps into achieving a coherent design.
This process consists of well-thought steps developed through design history that not only help to plan out the work but also systematize what has to be done in order to achieve the set goal. 
Here are the most important 7 steps that every designer should go through their expected outputs to drive a project to success shores 
Step 1: Study every aspect of the client's request, project briefing, and feasible options.
Before taking action comes understanding! The rule is simple every detail counts in order to build a  solid ground design on:
What is the project's purpose? 

What message is behind the brand? 

Did the company have other digital projects? 

What are the owners' vision and brand specifications? 

How much is the budget? 

Who will be using the project? 

Who are the end-users?

What are the possible use cases of the project

Etc…
And a lot of other questions targeting different details of the project.
 We should not be afraid to ask about other indirect details such as marketing goals, selling points, or future growth strategies As a designer is supposed to do work according to his precise knowledge about the user and client's expectations, not according to random guessing!
Usually, a discovery workshop is held by project managers and the main designer to collect all relevant details and set milestones and reference points for both the people working on the project and the client, and making sure everybody is on the same page. 
The expected output of this step is a solid documentation 
Step 2: Conducting  necessary research
After the nice discovery with the client, it is time for the designer to sit on his own and fill in the gaps! Conducting research according to the available details will help the designer analyze and understand further:
The client's culture and vision 

The potential users (age, gender, culture, nationality, locations..etc)

The feasibility of the use cases and client's requirements

Trends in the operating industry of the client

Client's competitors (features, main products, interesting solution, aspects of UI/UX)

Color meaning according to user culture 

Etc
 Knowing your audience is key to ensuring you communicate the right message through your design. 
The attended output to be able to visualize the aimed design and possible layout of the website.:
Style

Themes

 Colors

Fonts 

Graphics

etc 
Step 3: Brainstorming and Mindmapping
It is time to put all the generated thoughts into one useful idea
 mind mapping helps:
Better analyze and comprehend

Recall and generate new ideas

Take notes

Sketch mapping

Predict future pathways

Have an idea about the needed features

Eventually designing effective wireframes
The expected output is Creating a mood board that gathers all potential visuals and ideas is a great way to seek feedback from the client at an early stage.
Step 4: sketching
Sketching is the engaging phase of any web/app development process as it Sets iterations for UI/UX design processes and identifies its visual elements coherently before actually designing them. It is like  prototyping in pen and paper allowing you to take your design with confidence and identify any gaps of failure points so Use a whiteboard, paper, or available digital tools to turn the information you have carefully gathered into a product vision
With sketches and design mock-ups, you can create a number of different concepts faster as they do not require too many details. 
The expected output a full visual of your product ready to go into action 
Step 5: Designing
It is time to drive your sketch alive! Using digital tools such as a design system in order to shorten the process you start projecting elements of your design like colors and fonts and so delivering actual prototypes in collaboration with the development team. This step includes conducting continuous usability tests with real users to test how functional is your design and how practical and easy it is to navigate through it 
Conducting usability tests before and during the design process improves consistency. You can opt for card sorting, user interviewing, reviews, in-person or remote tests, and other methods.
The expected output:a finished design of every screen in every screen size
Step 6: implementation
The process is not over when the client accepts your design and you deliver it to front-end developers. The implementation of your design throughout the web pages is a matter of contribution between the designer and front-end developers which usually comes with few modifications and a concretization of the user experience for both web and mobile and the addition of some micro-interactions at the last minute.
The expected output: A functional combo of UI/UX 
Step 7:  Revisions and completion
This step is all depending on the level of satisfaction of the client and the outcomes of design testing. On average, one to three rounds of revisions take place before a client approves a design. Revisions are normal and essential to polish work and finalize designs.
As a designer, you should firmly advise the client with what is technically best even if he's keen on other designs.
The final quality assurance made determines the end of the UX development journey. If The client is buying it then you successfully made it!!! 
The expected outcome of this step: a final approval with detailed documentation delivered to the development team for the upcoming project phases 
Conclusion
Well, this was it all! Those steps are heaven to every designer in order to elevate his work and follow a conventional path with fewer mistakes. If those steps sounded a little too long don't worry in the upcoming blog we will tackle how  Arsenic Design System can shorten this process into 4 steps only and still deliver a 100% consistent design !!